Centennial Exhibit installed in Harkins Hall rotunda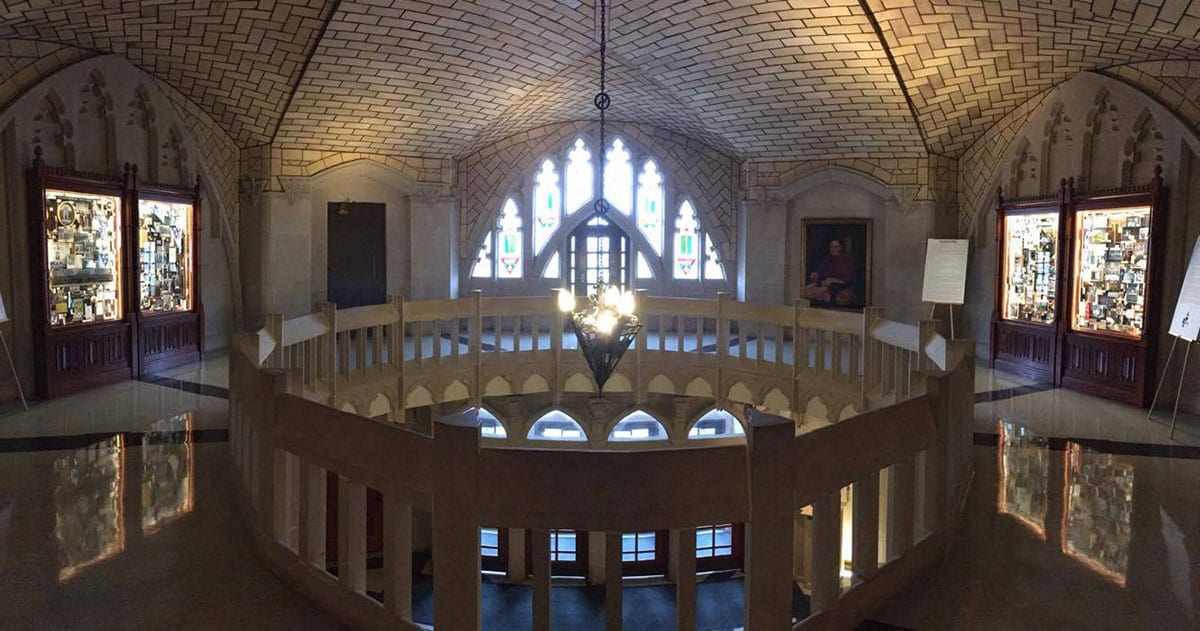 BY VICKI-ANN DOWNING
A hockey puck from 1927. A dance card from Commencement Ball in 1930. A baseball bat from 1945. A first-year beanie from 1967.
More than 100 objects, representing a century of Providence College history, are contained in a new Centennial Exhibit on the second-floor rotunda of Harkins Hall. The permanent installation is the work of Gerald J. Sullivan '86, an architect with Sullivan Buckingham Architects in Boston, and Thomas Lynch, an artist from Marion, Mass.
Sullivan, an architect for several campus buildings, including the Ruane Center for the Humanities and the Smith Center for the Arts, designed the four lighted, oak display cases — 8 feet tall and 4 feet wide — that house the artifacts. The cases, which match the wooden trim, doors, and benches of Harkins Hall, were built by Frank Shatz & Co. of Warwick, R.I.
"The challenge was trying to figure out how to put something new in what is probably the most historically significant space in the most historically significant building on campus," said Sullivan. "We tried to design something that would work well with the space and match its historic character, and at the same time would not protrude too far into it, because the rotunda is relatively narrow."
Lynch filled the glass cases with photographs and memorabilia provided by Providence College Archives. Each case represents 25 years of PC history. Built on wooden platforms, in overlapping layers, the exhibit represents student life, athletics, and important moments in school history. It was unveiled during Alumni & Family Weekend in February 2017.
Sullivan now is creating a timeline that will complete the exhibit. It will be mounted on two wrought-iron, horizontal rails, and will include photographs and milestones dating to the College's founding.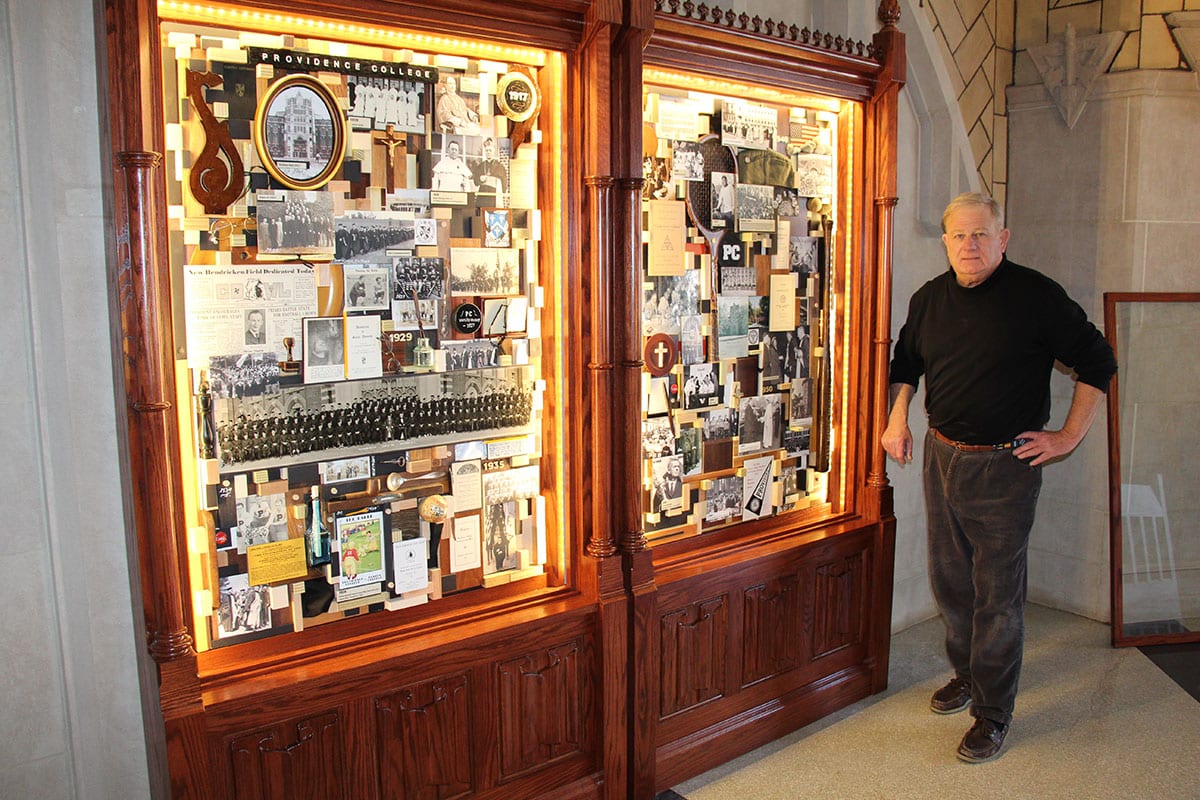 Lynch, a native of Warwick and a graduate of the Swain School of Design who also draws and paints in oil, began his career as an art director and senior designer, then found a niche designing three-dimensional trade show exhibits for companies such as Balfour and Raytheon. In 1995, he began working on commemorative exhibits for institutions and businesses, including Union Oyster House in Boston. He created a walk-around exhibit in the admissions building at Massachusetts Maritime Academy in Buzzards Bay.
His friendship with James G. Conway, Jr. '76, senior vice president and partner at RDW Group in Providence, has led to recommendations for further work. Lynch completed a Legacy Timeline commemorating the 150th anniversary of Rhode Island Hospital, which a delegation from PC viewed before hiring him to create the Centennial Exhibit.
Lynch said he worked closely with Russell Franks, librarian for special and archival collections, in selecting what items should be chosen to represent PC's history.
"I like to marry the old photos with the dimensional items, and to let people figure out some things for themselves — 'Why is that there?'" said Lynch. "Overall, I'm concerned with the general image when people see it. It's different. It's a personal view. When the timeline is installed, that will really complete it. It will be beautiful."
Though not an alumnus, Lynch has experienced some PC history firsthand. In 1973, he accompanied Conway to Charlotte, N.C., to see the Friars, powered by Marvin Barnes '74 and Ernie DiGregorio '73, defeat Maryland in the NCAA Tournament on their way to the Final Four.
"We were there when they cut down the net," said Lynch. "We were on the floor."
He watched the Final Four game at the home of Conway's father, Col. J. Gardner Conway '36.
Working on the Centennial Exhibit taught him even more about PC.
"One thing I found out about Providence College: it's really a refined, honorable, and special college, and if you go there, they make sure you become part of the family," Lynch said. "I noticed a tremendous quality to the place."
More Centennial Stories