The legacy of athletic trainer Mal Brown '33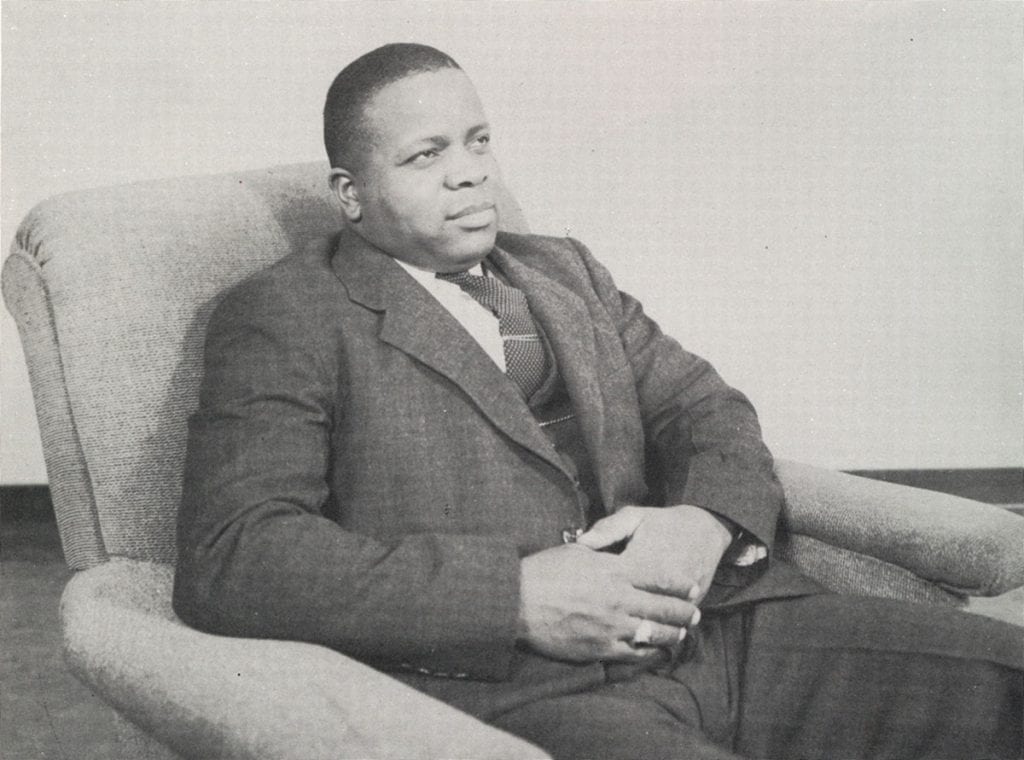 By Mark Harriman '88
Seventy-eight years after his untimely passing in October 1939, Malcolm H. Brown '33 remains an ever-present figure at Providence College.
He was a convert to Catholicism and a man of deep faith, a dependable halfback on coach Archie Golembeski's football team, a Providence College alumnus, and the school's first official athletic trainer.
He was a black man who studied and worked in a world where the vast majority of the all-male student body was white. Yet the color of his skin was of no matter to those around him.
Mal's trademarks were a hearty laugh, a wide smile, and a black derby cocked precariously to one side that he wore no matter the season. Over the course of about a dozen years, he became a larger-than-life figure, the heart and soul of a small, nascent Catholic institution up on Smith Hill.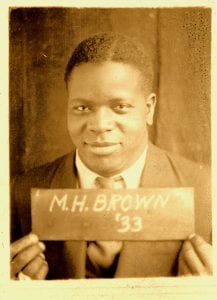 "The same kind of training"
When Mal applied for entrance to Providence College, the application asked, "Why do you wish to come to Providence College?" His reply was simple enough.
"I wish to attend Providence College because I have always lived among Catholics, therefore I would like to have the same kind of training."
Mal converted to Catholicism during his undergraduate years, guided by his pastor at St. Brigid's Parish in his hometown of Amherst, Mass. He was a daily communicant at Mass in Harkins Hall.
Given his propensity for laughter as tonic, Mal was frequently asked if he took anything in life seriously. His oft-repeated reply was just as succinct as the answer in his PC application: "Nothin' but my faith."
Champion athlete
Malcolm Hollis Brown — his death certificate and certain documents in the PC archives indicate that his middle name may have been "Hollins" after his mother's maiden name — was born in Amherst on Aug. 21, 1905, the youngest of four children. His mother, Irene, died within months of his birth. His father, Egbert, was a janitor at a local bank and remarried three years after Irene's death.
Upon his graduation from Amherst High School, where he starred in three sports, Mal was voted that school's greatest all-around athlete. A 1936 article in The Cowl revealed both Mal's athleticism and his humility.
"Testimony to his ability is given by the medal which he proudly possesses and seldom exhibits, upon which are inscribed the words 'Champion Athlete of Amherst High.' He matriculated at Connecticut State, starred in four sports for a period of two years, thence he arrived at Providence College." It was Fall 1927.
Thick in body and average in height, Mal had a unique gait that made him a halfback of some note on the football field. The gridders of the 1927-1930 era didn't fare so well, however, posting a less-than-mediocre 8-16-8 record. One of the highlights was a now-famous 0-0 tie against St. John's in a teaming rain storm and mud at Ebbett's Field in Brooklyn, N.Y., in November 1928.
In his undergraduate years, Mal was tutored in osteopathy by a well-known practitioner in Rhode Island, and those lessons served him well after his playing days had ended.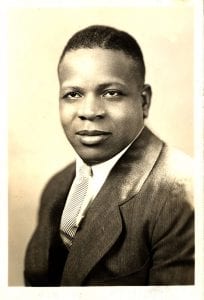 Academic challenges
Indeed, it was his extracurricular experience in medicine, rather than six years in the classroom at PC, that launched him into his ultimate profession, that of athletic trainer, which he fervently practiced until his death.
Rev. Urban Nagle, O.P. knew Mal well and eloquently recalled both his personal life and academic career in an article published in 1954, on the 15th anniversary of Mal's death. He was portrayed as a man of tremendous faith in religion and in people.
M. Hollis, as he was alternately known, graduated with the Class of 1933, a special person with a gift of healing on multiple planes.
"I'm told that Mal said he'd like to stay there at Providence as long as he lived," Father Nagle wrote. "If true, it was prophetic — because he lived at the college for the next six years and in that time became part of its soul."
A well-bent ear
An obituary published in The Providence Journal offered an insight into his standing among his fellow students and foretold of the respect he would earn as their friend.
"Even in his undergraduate days Brown attained more than ordinary popularity at the college. No senior ever received a more rousing ovation than he did on his commencement day."
For the next six years, Mal worked tirelessly as trainer to the PC athletic program, his summers spent meticulously transforming Hendricken Field from a baseball diamond to a football gridiron.
But more important than his work as a trainer and groundskeeper, Mal knew people and cared equally for the star quarterback and the third-stringer who never got off the bench. At his rubbing table, he dispensed both needed treatment and sought-after advice.
And when he was done with both, Father Nagle said, the psychologist in him knew what to do next.
"Many sessions ended with Mal calling one of the fathers and saying, 'I've done what I can. You take up from there. He's outside the confessional.'"
His obituary confirmed many of the anecdotes about Mal and his talent for being a sounding board. It called him a "master psychologist."
"Many an athlete who was on the point of packing his duds and going home for some supposed grievance forgot his troubles after a talk with 'Mal.'"
Trainer as spy
The multi-faceted trainer was also a weapon for the coaches he served under. Baseball skipper Jack Flynn had Mal give the signs to the PC nine in order to confuse the opponent. And on the gridiron, Mal went the extra yard for his guys.
With his trademark derby affixed to his noggin, Mal would sprint onto the field with his kit at the signal of an injury. As Father Nagle put it, "he had been accused in some of those dashes of relaying orders from coaches to quarterbacks. But what could the officials do with a man who just laughed? The only time he was really embarrassed was when he gave out the wrong play."
Even a trainer can have a bad day sometimes.
A fateful meal
In late August 1939, the football team arrived early on campus for pre-season practice. While Mal maintained his apartment at 17 Eaton St., the demands of a lone trainer at a multi-sport institution precluded his cooking many meals. So, he regularly ate with the team, which was encamped in present-day Martin Hall, then known as Guzman Hall.
On Sept. 24, prior to the opening of the semester, Mal fell ill, as did Raymond J. Kowalski '42, the sophomore halfback. They were the first of five associated with the football team to become infected with typhoid fever. Later, Athletic Director Rev. Robert Quinn, O.P. and his graduate assistant, Paul J. Dunne '39, would be hospitalized. The last to fall ill was Theodore N. Alexakos '41, the junior guard.
It was confirmed that the carrier was a new kitchen employee at Guzman Hall who eventually recovered, though remains nameless to this day.
The typhoid outbreak on campus sent shock waves throughout Rhode Island and, ultimately, the New York and New England college football fraternity. Rev. John J. Dillon, O.P. '26, the fourth president of Providence College, calmed matters with multiple assurances of the isolation of the cause. His official statement was widely reported in the newspapers.
"From the time when the first case was suspected, a very complete investigation has been carried out as to the origin of the disease, and every precaution was taken to prevent a spread of the disease. The investigation consisted in culturing all kitchens and other places where food might have been contaminated, the drinking fountains, the milk supply, sinks and lavatories. All these investigations proved there to be no further infection present."
As Mal received treatment at Chapin Hospital (which is now part of the PC campus), the other victims recovered, and the football team maintained its schedule of games, despite no small measure of hesitancy  from several opponents.
In separate correspondence, Father Dillon assured both the provincial of the Dominican Province of St. Joseph, Very Rev. Terence Stephen McDermott, O.P., and the athletic director of American International College of Springfield, Mass., that the threat of further infection had been quelled.
Ultimately, the real news in The Cowl was not the game result, but that the trainer and former athlete was not in attendance for the first time in more than 10 years.
The final chapter
Mal's condition took a turn for the worse with the onset of lumbar pneumonia, and time was running short. An urgent call went out for blood donors, and the response throughout the College community and surrounding neighborhood was swift and overwhelming.
Four PC undergraduates, one from each class, were chosen as blood type matches. PC's beloved athletic trainer received a transfusion from each, but it was too late.
The Providence Visitor, the diocesan newspaper, reported, "Phones rang constantly, dozens of medical bulletins were issued" as the Providence College community sat in vigil and prayed for their friend and mentor.
Nearing his last breath and in delirium, Mal called out for 12 Catholic doctors and 12 Catholic priests. While the significance of the number has been lost to the ages, even as his hours on this earth dwindled, Mal Brown was fixed on his faith.
On Thursday, Oct. 19, the most popular and beloved figure on the PC campus slipped away. He was just 34 years old.
The next night, on the eve of Mal's funeral, PC took on American International at Cranston Stadium as planned. The result was a 27-0 drubbing by Providence, the school's largest margin of victory in four years.
United in respect
In an unprecedented moment on campus, Mal's wake and funeral were held in Harkins Hall. His coffin was carried into the rotunda by the athletes who knew him best, and the halls which once echoed with his laughter only whispered in prayer.
On Saturday morning, the Dominican community marched solemnly through campus, along Sophomore Lane and over to St. Pius V Church on Elmhurst Street for Mal's requiem Mass. Behind them were scores of students, faculty, alumni, and friends, stretched out in two long columns. When the cortege reached the church, the rows parted and formed an honor guard for the hearse that carried the man who had become the embodiment of Providence College.
The Providence Evening Bulletin reported that 1,800 people packed St. Pius to hear Father Dillon eulogize Mal, whom he had earlier termed a loyal alumnus, a devoted friend, a man who proved himself of exemplary moral character, and "a solidly pious Christian gentleman, possessing the virtues of the highest type of manhood."
Among the attendees was Hank Soar '37, a star halfback of the New York Giants who also played defense. Just 10 months earlier, Soar caught the winning touchdown in the NFL title game against Green Bay. He later became a long-time American League baseball umpire. After the funeral, Soar made it back to the Polo Grounds in time to intercept a Sid Luckman pass and help his Giants top the Chicago Bears, 16-13, in what was the second-most attended NFL game at that time.
Two Providence police officers escorted Mal's hearse to the city line as it left with his family for the ride to Amherst. Mal was the first to be buried in the Brown family plot at Wildwood Cemetery. Buried there in later years were his stepmother, Lucy; his step-sister, Mary; and his father, Egbert, who outlived his youngest son and died in 1976 at age 98 as the oldest-living resident of Amherst.
Well-deserved honors
In March 1940, just months after Mal's passing, the senior class was presented with the task of dedicating its Veritas yearbook. Students were provided with three options: the benefactors who made Aquinas Hall possible, those same benefactors and Mal Brown, or Mal himself. In a show of ultimate respect, more than 100 seniors chose Mal alone.
Seventeen years after his death, the Providence Chapter of the National Alumni Association was named "The Mal Brown Club." The club's logo is a derby perched atop the seal of PC, and its highest honor, the Mal Brown Award, is "given to alumni whose lives have exemplified the love and loyalty to PC that was characteristic" of Mal. Club members have endowed the Mal Brown Brown Scholarship to help meet the financial needs of a local student.
In 1970, Mal was inducted into the PC Athletics Hall of Fame as a charter member. The Department of Athletics has annually presented its own Mal Brown Award to a senior intercollegiate athlete who possesses sportsmanship, courage, and honor.
One of the original apartment-style residence halls on campus, completed in 1988, was dedicated to Mal in fall 1992. Another tradition which honored him for many decades was carried out by the men's basketball team, whose first practice of each season included the Mal Brown Scrimmage.
Well-deserved honors, indeed.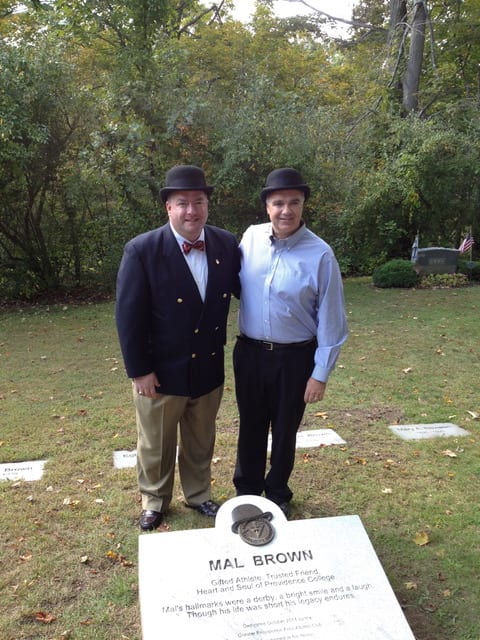 The Mal Brown marker project
None of the Brown family graves on the sloping hillside at Wildwood was marked with a headstone. In the early 1970s, a small group of alumni who knew Mal attempted to place a stone on his grave. The project never took root. The only evidence of the effort is a few scattered letters in the PC archives.
In 2011, the Mal Brown Club board of directors formally adopted a project to place a monument to Mal at his gravesite and to honor his legacy at Providence College. The effort would also provide markers for the family graves. A dedicated alumni committee and a widely-acclaimed stone contractor shepherded the Mal Brown Marker Project to fruition. With the assistance of the Office of Institutional Advancement, in excess of $7,000 in small donations was raised to fund the project.
After a memorial Mass for Mal and his family at St. Dominic Chapel, the final unveiling and dedication of the monument was held Saturday, Oct. 22, 2011, at the War Memorial Grotto. The monument and headstones were subsequently transported to Amherst for their final placement, and one last blessing by Rev. Msgr. Christopher D. Connelly '89 of the Diocese of Springfield.
Knute and Mal
A Cowl editorial published the day before his funeral summed up Mal's legacy at PC.
"It is by no means an overstatement to say that Mal Brown was to Providence College what the immortal Knute Rockne was to Notre Dame. Although 'Rock' passed on … his name still remains fresh in the minds of football lovers the country over, especially those who came in contact with him during his years at the South Bend institution. And so will the name of Mal Brown occupy similar place in the hearts of PC men for years to come."
Mark Harriman '88 is chair of the Providence President's Council, a former vice president of the Mal Brown Club, and the 2016 recipient of the Mal Brown Award, the club's highest honor. He is a retired commercial banker and a founding partner of BostonSportsDesk.com.
Sources: The Providence Journal, The Evening Bulletin, The Providence Visitor, The Cowl, Providence College Alumni Bulletin, PC archival material, Newspapers.com (Chicago Daily Tribune).