Rev. John Fabian Cunningham, O.P. '50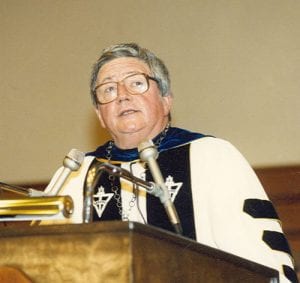 TENTH PRESIDENT, 1985-1994
Birth: Aug. 7, 1928, in Providence, R.I.
Death: Dec. 4, 2006, in Providence, R.I.
Burial in the Dominican Cemetery, Providence College, Providence, R.I.
THE CUNNINGHAM YEARS AT PROVIDENCE
A nine-member Search Committee representing various constituencies forwarded the names of finalists for the position of president to the chairman of the Corporation. On March 12, 1985, the Corporation elected Rev. John Fabian Cunningham, O.P. '50, to succeed Rev. Thomas R. Peterson, O.P. '51 as College president. The Cunningham era, symbolically and ceremonially inaugurated on Sept. 24, officially began on July 1, 1985.
Father Cunningham had a long and personal association with Providence College before being named the 10th president. He had grown up in the Elmhurst neighborhood, was a parishioner at St. Pius V Church, which is located across the street from the College, and attended the nearby parochial grammar and diocesan high schools before he enrolled at PC in 1945 as a member of the Class of 1949.
He proceeded quickly through his undergraduate, novitiate, and post-graduate programs, and in the fall of 1958 the new doctor of philosophy joined the faculty of the PC Philosophy Department. He maintained his PC faculty status while holding administrative posts — Liberal Arts Honors Program assistant director, 1959-1965 and 1967-1968; Humanities Program director, 1963-1965; rector of Raymond Hall, 1963-1971; Liberal Arts Honors Program director, 1965-1967; director of residence, 1967-1970; dean of the College, 1971-1974 — and had experience on a wide variety of committees. these included administration, academic rank and tenure, studies, curriculum study, which designed the Development of Western Civilization Program, student-administration, discipline, and student-faculty.
In addition, he was elected as the first president of the Faculty Senate in January 1968 and re-elected for a second term. In 1974, he resigned as dean in order to resume teaching full time. Although living in New York City and occupied primarily with provincial matters from 1980 to 1984, he was aware of College activities through his Corporation membership. He had been back on campus teaching philosophy and Development of Western Civilization since January 1985 immediately prior to being named president.
A member of the Corporation since 1982, Father Cunningham continued to serve on that body until the end of his presidential term in 1994. He was also on the Executive Committee and the Corporation treasurer from 1985-1992, when a two-tier structure of PC governance — the Corporation and the Board of Trustees — was instituted. Father Cunningham served on the board from 1992-1994. Like his predecessors, he also served on the President's Council for the duration of his term. He continued to teach, usually one course in philosophy each semester, while president. On Nov. 30, 1993, he notified the Board of Trustees that he would be resigning from office. After his term concluded on June 30, 1994, Father Cunningham took a leave of absence.
In the spring of 1995, having accepted an appointment as a Walter H. Annenberg Fellow, he offered a course in contemporary existentialism at Brown University. In the fall of 1995, he resumed full-time teaching duties at PC, and he continued to teach ethics courses until shortly before his death in 2006.
Father Cunningham was keenly aware of the growth of the campus, the amenities offered and expected, the impact of the College in the local community, and the changes in the makeup of the student body and workforce. Several strategies were developed to renew good relations between the College and the surrounding neighborhood. The administration developed policies and programs addressing the issues of diversity in admissions, scholarship and cultural opportunities, and faculty hiring.
In 1985, Father Cunningham founded a scholarship fund for Southeast Asian students from Greater Providence. Opportunities for community and social service were enhanced, and an innovative academic program in public and community service studies was formulated. The College provided a new option in residence facilities, apartment suites, to attract more upper-class students to on-campus living. Academic initiatives and construction/renovation of classroom facilities were undertaken within the framework of the College commitment to a liberal arts education. Celebrating values that endure was the theme of Father Cunningham's inaugural address and also of the College's 1992-1993 Diamond Jubilee program, which began with festivities observing the 75th anniversary of the Sept. 19, 1919, opening of Providence College.
With interests in classical music and theatre arts, Father Cunningham served on a number of cultural groups, including the Rhode Island Philharmonic Orchestra Friends Society and the Providence/350 Jubilee Commission, participated in several College theatrical productions, and advocated for a campus performing arts center.
His membership in religious, educational, professional, and civic organizations included the Dominican Leadership Conference, Friends of the Angelicum University, the R.I. Independent Higher Education Association, the American Catholic Philosophical Association, the R.I. Chapter of Alpha Epsilon Delta, the Theta Chapter Delta of Epsilon Sigma, the National Conference of Christians and Jews, the R.I. Anti-Drug Coalition, and the R.I. Supreme Court Judicial Performance Evaluation Committee.
His many contributions to the local community were recognized by a City of Providence Outstanding Citizen Award (1985), the La Salle Academy De La Salle Distinguished Service Medal and Hall of Fame membership (1992 and 1996), a Brown University Annenberg Fellowship (1995), and St. Pius V Parish Veritas Award (2001). Providence College presented him with the following: R.I. Chapter Alpha Epsilon Delta Honorary Membership; Student Congress Man of the Year Award (1971); 1994 Class Ring presentation; renaming of Apartment C to Cunningham Hall (1994); renaming of the Southeast Asian Scholarship Program (1994); awarding of a Cunningham Southeast Asian Internship in 1994 and 1995; and an Asian Alumni gift of appreciation (2002). At the 1994 Commencement Exercises, the College presented Father Cunningham its highest honor, the Veritas Medal.
EDUCATION
The oldest of two sons of Hugh S. and Marie (Scott) Cunningham, John attended St. Pius V Grammar School and La Salle Academy, the diocesan high school, where he was active in the band and won an award for public speaking. Within a few weeks of graduating from La Salle in June 1945, he entered Providence College, which was operating on a tri-semester calendar due to World War II. The 16-year old enrolled in the course of study designed for those interested in entering the priesthood, the bachelor of arts degree with a concentration in classics. While a PC undergraduate, John lived at home and worked at the post office to help pay for his education. He was attracted to the community life described by classmates participating in the on-campus Dominican pre-ecclesiastic program, joined the affiliated Philomusian Society, and decided to apply for the Dominican novitiate.
He was accepted in 1946 and professed in 1947 at St. Rose Priory in Springfield, Ky. He took philosophy courses at St. Joseph's Priory in Somerset Ohio, from 1947-1949. In 1950, he received his B.A. degree from Providence College. From 1949-1954, he pursued his studies at Immaculate Conception College in Washington, D.C., taking one year in philosophy and three years in theology. He received three degrees from Immaculate Conception — a bachelor of sacred theology in 1952 and a license of sacred theology and a lectorate in sacred theology in 1954. On June 4, 1953, he was ordained as a priest in the Order of Preachers in Washington, D.C. From 1956-1958, he studied in Rome at the University of St. Thomas, where he received his doctor of philosophy degree in 1958.
OTHER ASSIGNMENTS
Prior to beginning his doctoral studies, Father Cunningham taught philosophy at St. Joseph's Priory from 1954-1955 and at St. Stephen's Priory in Dover, Mass., from 1955-1956. He also was a guest professor of theology at Mater Dei College in Ogdenburg, N.Y., during the summer sessions of 1954-1956 and 1960-1962. From 1980 to 1984, on leave from the College, he served in New York City as vicar provincial of the province and socius, or assistant, to the provincial.
— Jane M. Jackson, 2003