Providence College: a story of love, compassion, humor, and history
By Peter R. McCarthy '60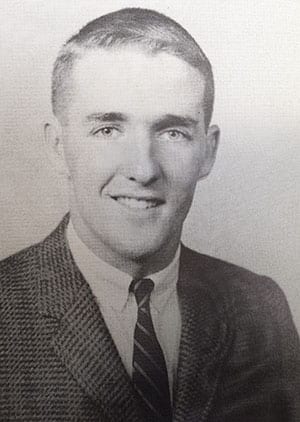 In the beginning
My sons both went through the "rite of the college visit," with stops in Virginia, West Virginia, even Oregon. I did not. Arriving on campus after a short drive from Newport in September 1956 with my parents, I settled into college life with my new roommates, Bob Lovett '60 from Brockton, Mass. and Tom McCauley '60 from Hamden, Conn. I had never set foot on campus before that day. No visit. No tour. I knew while progressing through De LaSalle Academy in Newport that Providence was my college goal. Why? I had a favorite uncle who was a member of the Class of 1940 – a member of the "Greatest Generation" – and that was good enough for me!
Lessons in compassion, Dominican style
Being pretty focused, my career target was a Marine commission. Not being a rocket scientist, I struggled at first and saw Dominican compassion come into play. A low first-quarter grade in math from Rev. Edward Gallagher, O.P., was remedied by the magic of Rev. Edward B. Halton, O.P., the dean of freshmen, who facilitated a transfer to Mr. Dorshner's math class. A series of A's followed, proving the lesson that it's all about communication! Rev. Royal Gardner, O.P., Rev. Martin Jordan, O.P., Rev. Walter Heath, O.P., and Rev. Dennis C. Kane, O.P. all provided the counsel, example, and kindness that led to a growing confidence.
The Dominican Hall of Fame
Soon those men began to form the foundation for a fast- and continuously-growing "Dominican Hall of Fame," forever etched in my fondest memories. Now, at age 78 at this writing, I love Providence College for what it gave me as a young man. Those great men, and many more who followed, solidified core values that have stood the test of time.
The Friar experience
My Providence College experience, be it in the classroom, dorms, sports, social life, the chapel, Army ROTC, Marine PLC, the Friars Club, working in the Aquinas and Raymond Dining Areas, or in an endless array of extracurricular activities, kept me happy and engaged with a myriad of friends. The camaraderie evolved in all those places and, most importantly, through interaction with our beloved Dominicans, creating relationships that have lasted all these years. Slogans such as "Friar forever" and "Friar family" are very real, meaningful, and lasting.
Our class, "the Great Class of 1960," was truly at the genesis of an ever-growing and successful basketball program. At that time, PC's president, an intimidating FDR look-alike (pince-nez glasses and all) was Rev. Robert J. Slavin, O.P. Father Slavin wanted nothing more than to beat "that Jesuit school up the road, Holy Cross," so he hired a former Crusader (and friend of Bob Cousy's) Joe Mullaney '65Hon. & '98Hon. as our new basketball coach.
I found myself courtside, at the very start of what would soon become a storied basketball program. Providence icons then and now include my classmate Lenny Wilkens '60 & '80Hon. (since elected to the Basketball Hall of Fame in three different categories), John "Cool Breeze" Woods '60, "Hartford Johnny" Egan '61, and pioneering sports broadcaster Chris Clark. Who could forget the first Friar-St. Bonaventure overtime radio broadcast from booming downtown Olean, N.Y.! Another was Providence Journal sportswriter Pete McCarthy (no relation, although I greatly benefited through identity confusion). Additional important personalities of that time included Athletic Director Vin Cuddy, who was everybody's friend; the beloved Rev. Robert Morris, O.P. '46 & '82Hon.; and French professor and band director Rev. Raymond St. George, whose musicians stirred the team and Friar Fanatic fan base on to victories in the National Invitational Tournament.
With two quick upsets in that St. Paddy's tournament at Madison Square Garden, the sobriquets "Cinderella Friars" and "Cardiac A.C." suddenly appeared everywhere. In the euphoria of the Friar victories, Russell J. McVinney, bishop of Providence, rose in the stands at the Garden among ecstatic Friar fans, raised his hands, and declared a holiday for all Catholic school kids in Rhode Island the next day.
Those were exciting times for sure, but basketball successes were just one wonderful piece of many. The whole Friar experience allowed us to grow and develop under the guiding hands of compassionate, dedicated, and holy men. Humor, strength, and rock-solid character were ever-present. I think of Father Morris, Rev. Cornelius Forster, O.P., Rev. Joseph S. McCormack, O.P., and Rev. Thomas H. McBrien, O.P. holding forth over coffee sharing in a confab in the cafeteria. It was a special time – growing and learning amid laughter and ever-growing friendships.
An alumnus
Fast-forward to graduation — I was commissioned as a Marine and on my way. A wonderful career in the Corps involved much travel and interesting assignments including Virginia, Washington, Vietnam, Philadelphia, Okinawa, and California, and I always remained engaged with Providence College.
While stationed in Washington, I joined old friend Father Morris, who was on assignment at Catholic University. Along with two buses of Friar faithful, we headed to a game with Villanova in its old "band box" gym. The rolling cocktail party returned hours later, having suffered a Friar loss — a real thumping — but not before Father Morris had encouraged me, a young Marine captain in uniform, to lead Friar cheers on the floor in front of our fans deep in enemy territory during a timeout. The Villanova Wildcat mascot came over while I was still on the floor, saluted, and did an "about face." I gave him a gentle boot in his posterior, generating playful boos from the Villanova faithful. It was but a day later that the whole account appeared in the Providence Journal, including an "honorable mention." Further, the game was televised with the broadcast including the Wildcat mascot interaction. It happened to be observed by loyal Villanova alum and, fortunately, a good friend, Marine Commandant Gen. P.X. Kelly.
Friar values and appreciation
In December 2015, a second career of service has reached the 30-year mark. The focus of this business has been to assist senior executives in the successful completion of their job searches. As with the Marine Corps career, this has been enormously gratifying. Providence College gave the tools, wisdom, and core values and for that I am eternally grateful. Return trips to campus always include a visit to the Dominican cemetery to say a prayer for all these great men, and to "troop the line," offering a salute to those who, as members of the Greatest Generation, fought in World War II – each of their gravestones marked with a flag.
Brave men, great men, my role models … never forget.
I am grateful and thankful to be a Friar.
Centennial Stories