The Blizzard of 1978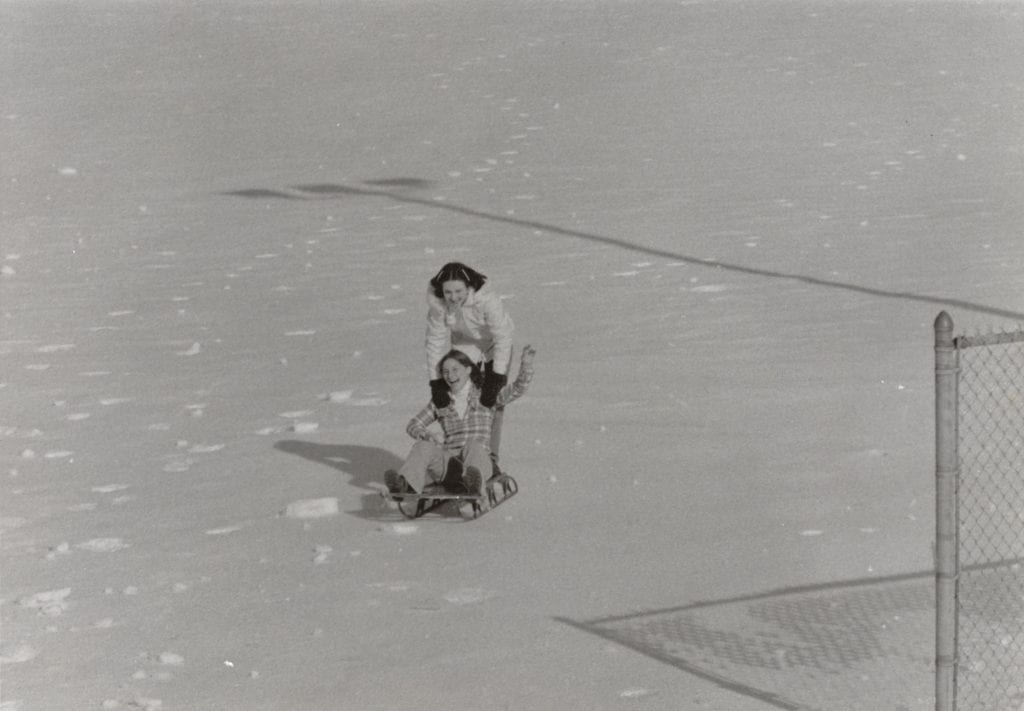 New England was blasted by an historic, unrelenting nor'easter on Feb. 6-7, 1978, when up to 40 inches of snow fell in Rhode Island, wreaking havoc — and triggering life-long memories — on the region for a week.
Rev. J. Stuart McPhail, O.P. '61, who was teaching at PC and was head resident of St. Joseph's Hall when the blizzard hit, shares his memories:
"I'm not sure anybody thought it was going to be as severe as it was. But when the storm came, it was very orderly, considering everything. Our rec room was facing straight out with long windows, and I remember seeing the snow, and it was very tiny flakes. I said to one of the priests there, 'It looks like this is going to be a very good storm because of the size of the flakes.' And they weren't soft … it was like getting hit with little pins. It just kept coming and coming and coming."
"At about 4 p.m., it was clear that this was going to be a severe storm, and the city started to shut down. That's when the traffic just couldn't go anywhere, so people had to abandon their cars. There was one Dominican priest who drove a faculty member home but then couldn't get back. He had to stay at her home until the city could get back to normal again."
"Looking down from the roofs [on campus], it looked like a kid had been playing with his toys, and mom said, 'Time for dinner.'"
"The students were very good, but their routine was turned upside down, and they were getting very bored. They were looking for things to do. A group of us walked down Eaton Street, down Douglas, and into the city. We even walked through the bus tunnel on the East Side. The kids from Brown and RISD were skiing down the hill there."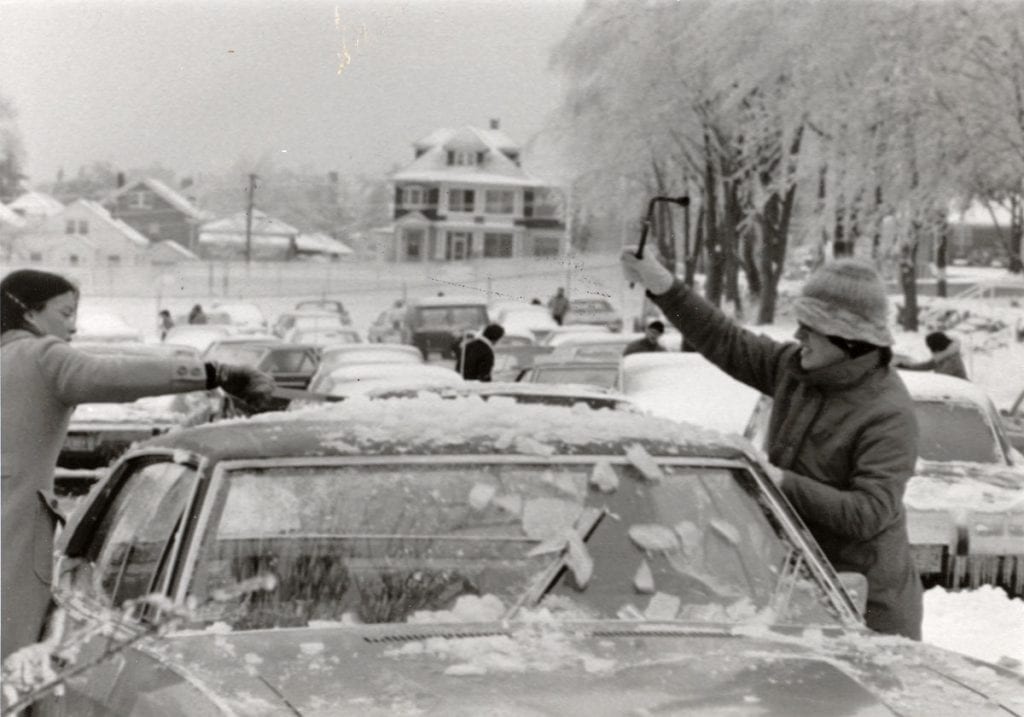 Jack Loughran '80 remembers…
"… It started snowing on a Monday. The storm got worse as the day went on. Walking from Hotel Fennell to Raymond Caf for dinner, you couldn't see the person in front of you. Fortunately, no one got lost. The storm was done the next day, but the damage was done:  classes cancelled for the rest of the week, state of emergency in R.I., no driving allowed."
"…Sledding on trays taken from Raymond. Some kids were skiing down Eaton Street. Many volunteered in the community. We didn't have cable TV or internet or video games to pass the time, but the drinking age was 18."
"… Raymond started to run low on food. Wednesday was Ash Wednesday, and we had ham steak (so much for abstinence). Eventually, food was delivered by helicopters landing on Raymond Field, and Raymond was open to all."
"… The following weekend was going to be a long weekend, with no classes on Friday and Monday. Kids that lived south of Providence were able to get on Amtrak and head home, but those of us from further north went nowhere."
"… On Sunday, the men's hoop team was scheduled to play UNC at the Civic Center. The Tar Heels supposedly got a lift from the National Guard, and the nationally televised game went on. Since there was still a driving ban, only those who could walk to the game could get there. (Half-court seats for all, a creative sign stating "Hi Mom. Send Shovels." and a Friar upset win.)
"… A long week, but not one easily forgotten."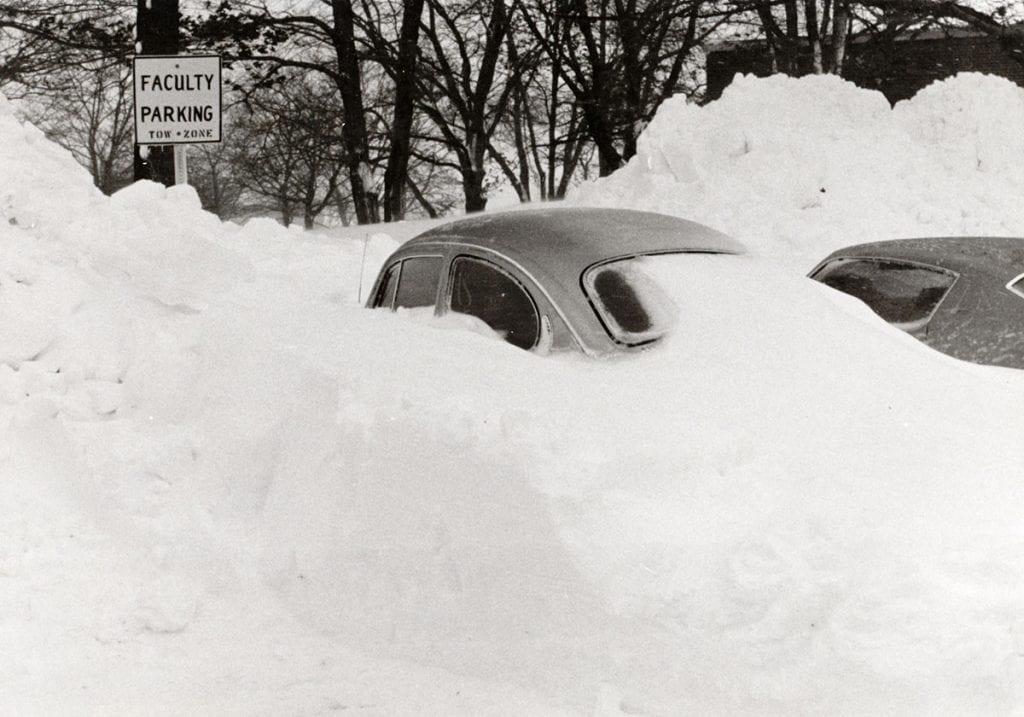 Steve Brophy '81 remembers …
"… Just getting up to Raymond cafeteria [form Fennell Hall] was a struggle through waist-deep snow."
"… Watching R.I. National Guard helicopters deliver food and milk to campus."
"… After a couple of days with us all essentially stuck in our dorms, the flu or some sort of virus struck and virtually everyone was sick. Stephen's Hall infirmary was filled to the brim."
"… I worked at 'The Rat' campus bar, (the drinking age back then was 18), and we would stay open each night until we ran out of beer. We got a couple of kegs each day from a local distributor via a student that had a special pass allowing him to drive on the roads (which were all closed). He had a four-wheel jeep, because he was the college president's driver at the time and was issued a special permit. So when those couple of kegs were gone — the party was over again!"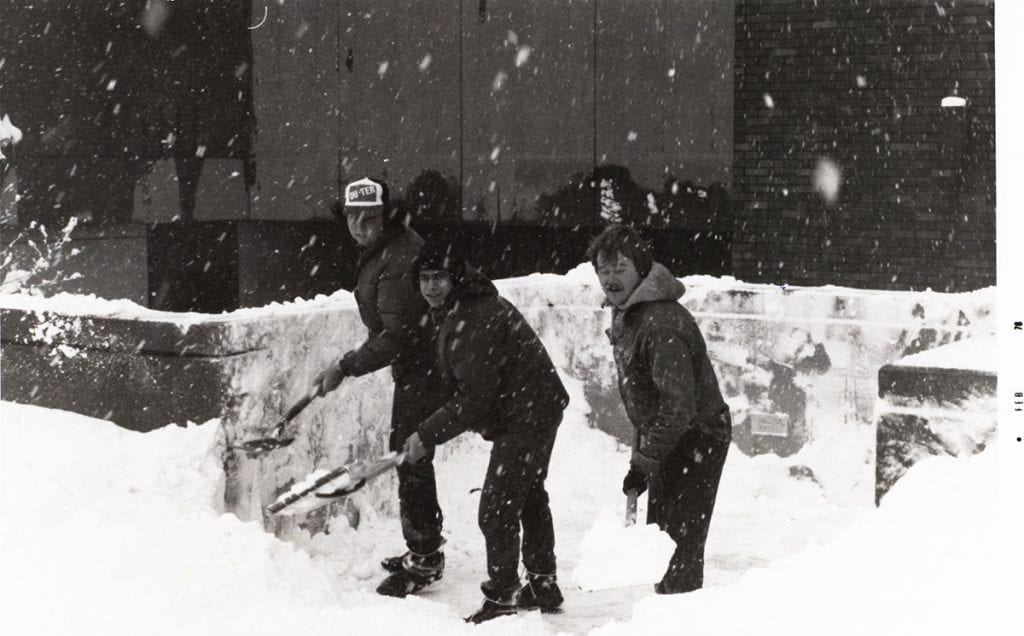 When sharing why he loves PC, Kenneth Kraetzer  '79 recalls:
"Cross country was flourishing … earning national rankings with my friend, John Treacy (Class of 1978), winning international titles and preparing for the day he would win an Olympic medal for Ireland. Perhaps the road to that marathon medal was won during the Blizzard of '78 when John shoveled a narrow lane through the snow so he could train on an old wooden track behind Dore Hall."
Jim Porell '80 remembers …
"… It was a lot of fun. At least five days out of school. First stop, getting beer. We got a couple of cases and went to a butcher shop to get some string. We dragged the beer back like a sled, with a string through the case. We also saw a woman walking with large grocery bags. We volunteered to carry the bags for her. Our reward? A half-gallon bottle of whiskey."
"… In Stephen's Hall, we were jumping from the second-floor windows into the snow. It was amazing how deep the snow was. The next day, we tried it again … not so much fun. The snow had frozen overnight. What was a fun, soft jump the day before had become a hard slap on the butt."
"… We walked to the Civic Center to see PC beat #1-ranked North Carolina and Dean Smith. My season ticket was section 1, row A, seat 1, which was right underneath the basket. I had the pleasure of sitting next to Phil Ford's parents. Phil was an All-American [at UNC] and star of the team. They had taken the train up from North Carolina and, like us, had to walk to the Civic Center. They were so cold and, in the end, so shocked by the loss to PC."
"… Finally, the Army Corps of Engineers came with humongous tank-like vehicles to plow the roads. Those poor guys were flown in from Fort Benning, S.C. The vehicles could plow both sides of the road at once. Tow trucks would drag stuck cars out of their way. Unfortunately, they were used to the South. The vehicles didn't have a cab, and the drivers were freezing up there running them."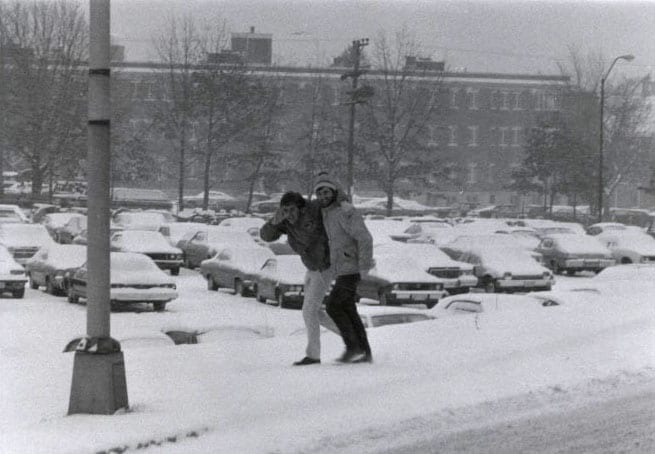 Franklin C. Johnson, president of Roger Williams Hospital, submitted a thank you to the "more than 100 Providence College students who served as volunteers during the five days of our isolation":
"Each day after the first day of the storm, groups of students walked from the campus to the hospital to offer their help in any and every way.… They served food to our patients; they folded laundry; they answered phones in administrative offices; they washed dishes; they shoveled snow…. There is no question that without their help, the services we were able to maintain for our patients would have been seriously altered." (The Cowl, March 8, 1978)
This story, titled "Garrahy Rescued," appeared in The Cowl on Feb. 15, 1978:
Governor Garrahy almost didn't make it to the State House last Tuesday. He was stuck in a snowdrift at PC while traveling to the State House early Tuesday morning. It seems that the governor was being transported from his home in the Mount Pleasant section of the city to the State House down Eaton Street, trying to avoid clogged Smith Street from there. Well, it got stuck. So Garrahy went to the closest shelter — Guzman Hall — to telephone for help. They didn't need help. Residents of Guzman literally lifted Garrahy, his driver and the jeep out of the snowdrifts and got it going to the State House.
This excerpt appeared in The Providence Sunday Journal on Feb. 2, 2003, on the 25th anniversary of the blizzard.
By Saturday, Feb. 11, Providence city workers were able to clear off one Rhode Island Public Transit Authority bus and send it to T.F. Green Airport, escorted by four-wheel-drive emergency vehicles. The bus got to the airport just as the first non-emergency airplane was permitted to land. The plane carried the University of North Carolina basketball team, ranked seventh in the nation at the time.
North Carolina was ferried into a still-closed Providence to play the Providence College Friars on Sunday afternoon, in a nationally televised game at the Civic Center.
Because the city streets were closed, all of the 6,863 fans who made it to the game walked. They came from as close as the old downtown train station, where fans from Westerly and Mystic, Conn., had been delivered by Amtrak, to as far as Cranston, Johnston and Warwick.
It was a game that lived in PC basketball history. The Friars defeated North Carolina, 71-69, on a baseline jump shot by Billy Eason with 21 seconds left.
Officials thought of cancelling the game, but [Governor] Garrahy and then-Providence Mayor Vincent A. Cianci, Jr. thought it would be good to play. "An event like this will give everybody a boost," Cianci said at the time. "It will show the nation the fiber and strength of Rhode Islanders in the face of a great national disaster."
More Centennial Stories