Rev. Frederick Clement Foley, O.P. '29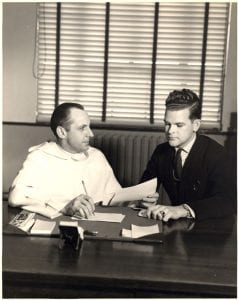 FIFTH PRESIDENT, 1945-1947
Birth: March 9, 1904, in Lowell, Mass.
Death: Aug. 17, 1955, in Natick, Mass.
Burial in Dominican Cemetery, Providence College, Providence, R.I.
THE FOLEY YEARS AT PROVIDENCE
On Dec. 16, 1944, the provincial appointed Rev. Frederick Clement Foley, O.P. '29, a PC alumnus, to succeed Rev. John Joseph Dillon, O.P. '26 as president and superior. Frederick was enrolled with the Providence College Class of 1927 as a pre-ecclesiastic student. Shortly after earning his master's degree in 1934 from The Catholic University of America in Washington, D.C., Father Foley was assigned to Providence College as a professor of religion. He was named Alumni Association chaplain in 1941. He was engaged in teaching for 10 years and served in several administrative capacities for eight years before being elevated to the presidency — as College assistant dean, assistant Corporation treasurer, and vicar-superior, assisting Father Dillon in running the Dominican household. Father Foley took over his new duties immediately after his appointment, and, on Feb. 1, 1945, the Corporation executive committee affirmed the election of the fifth president and  elected him as Corporation treasurer.
Father Foley was a popular speaker on the subjects of Catholic higher education and alumni support. He was a member of several Catholic and Rhode Island educational groups during his short presidency and, like his predecessor, chaired the New England Unit of the National Catholic Educational Association College and University Department. Well-placed individual alumni and enthusiastic area clubs were becoming valuable PC advocates, organizers, and donors.
Father Foley retained his post as chaplain of the Alumni Association and remained active in the Loyalty Fund throughout his term. He was involved in the gymnasium fund drive at the time of his presidential appointment and undertook a major expansion of facilities to accommodate the surge in undergraduate enrollment after World War II (from 162 in the fall of 1944 to 1,203 by the time he left office in the spring of 1947). Government financial aid, especially the G.I. Bill of Rights, opened the doors to PC for thousands of veterans.
The provincial frequently expressed concern about the fragility of the president's health, and, on May 30, 1947, he notified the bishop that he had accepted Father Foley's resignation for reasons of poor health.
EDUCATION
Frederick and his sister were brought up by an aunt and uncle after their parents, Michael J. and Margaret A. (Heeland) Foley, died. After attending St. Michael School in Lowell, Mass., and Lowell High School, Frederick completed three years of college preparatory work at Aquinas College High School in Columbus, Ohio, in 1923. He enrolled as a member of the Class of 1927 and pursued pre-ecclesiastic studies at Providence College from 1923 to 1925. He was accepted into the novitiate in 1925 and professed in 1926 at St. Rose Priory in Springfield, Ky. He continued his education at the Dominican House of Studies in River Forest, Ill., from 1926 until 1929, at which time he received his bachelor of arts degree from Providence College.
He spent a year at St. Joseph's Priory in Somerset, Ohio, finished his training for the priesthood at the Dominican House of Studies in Washington, D.C., and was ordained in Washington on May 20, 1932. He earned his master of arts degree from The Catholic University of America in Washington in 1934 and had begun advanced studies there at the time of his appointment to Providence College. Father Foley was the recipient of two honorary degrees, a doctor of laws (LL.D.) from Providence College in 1944 and a doctor of science (Sc.D.) from Rhode Island College of Pharmacy and Allied Sciences in 1946. In addition to the honorary degree, he received a Thomistic Institute Doctors' Guild Honorary Membership (1945) and Alumni Association Resolution (1948) from the College.
OTHER ASSIGNMENTS
Father Foley taught at the Sisters of Mercy Novitiate in Cumberland, R.I., during his years at PC. After resigning from the College in 1947, he was assigned to Aquinas College High School, where he taught English, religion and public speaking, until his death in 1955. Father Foley was the first president to be buried in the Dominican Cemetery on the PC campus.
— Jane M. Jackson, 2003