Rev. John Jordan Dillon, O.P. '26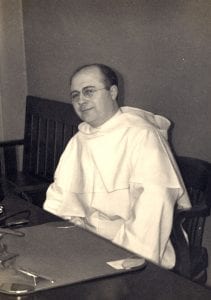 FOURTH PRESIDENT, 1936-1944
Born: Sept. 2, 1898
Death: Dec. 1, 1944
THE DILLON YEARS AT PROVIDENCE
Rev. John Jordan Dillon, O.P. '26 was the fourth president of Providence College and the first alumnus to become president. He was born on Sept. 2, 1898, in Connecticut. John attended public schools in Derby, Conn., and joined the U.S. Navy shortly after graduating from high school in 1917. He took basic training in Newport, R.I., and was assigned to a submarine tender during World War I.
From 1920-1922, John was a member of the Dominican pre-ecclesiastic group studying at PC. He was enrolled at St. Joseph's Priory in Somerset, Ohio, from 1922-1923. He continued his studies at St. Rose Priory in Springfield, Ky., from 1923-1925 and at the Dominican House of Studies in River Forest, Ill., from 1925-1926. He received his bachelor of arts degree from PC in 1926. Shortly after his ordination in Washington, D.C., on June 17, 1929, Father Dillon was sent to the Angelicum in Rome to pursue doctoral studies. In 1932, he received his doctorate.
Ten years after leaving PC as a pre-novitiate, Father Dillon returned as a philosophy professor and soon also became an assistant dean. On Sept. 11, 1936, the Corporation elected Rev. John Jordan Dillon, O.P. as Corporation treasurer and confirmed his appointment as president.
Expansion of the Extension School, undergraduate enrollment, and facilities marked the years of the Dillon presidency. Aquinas Hall opened in the fall of 1939, giving students in the general population, not just Dominican pre-novitiates, the option of on-campus residence life.
Wartime instability and shortages of men and material forced the president to concentrate on the survival of the College. The surprise decision by the U.S. Army to use the facilities and staff for an Army Specialized Training Program basic engineering unit sustained the College from July 1943 to March 1944. PC began its second quarter-century in September 1944 with two-thirds of its 3,000 graduates in military service, a closed Aquinas Hall dormitory, and an undergraduate enrollment of 162 — the same number as were registered in the College's second year. Yet, the president looked forward to postwar resumption of raising academic recognition. In November 1944, he initiated a fund drive for construction of a gymnasium. After several years of ill health, he died on Dec. 1, 1944.
OTHER
Other recognition of Father Dillon included the following: dedication of two undergraduate publications, The Cowl and The Alembic (1936); College Alumni Association Torch and Triangle Club Honorary Presidency (1937; two honorary Doctor of Laws degrees, from Brown University (1941) and Rhode Island State College (1942); the Veritas PC senior class yearbook dedication (1945); Providence City Council resolution on his death (1945), the establishment and naming of Knights of Columbus Council # 3563, and the PC Commuters' Club (1952 and 1965).
— Jane M. Jackson, 2003