Rev. Philip A. Smith, O.P. '63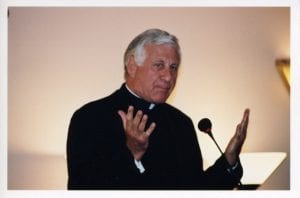 ELEVENTH PRESIDENT, 1994-2005
Born: Sept. 6, 1933
Death: Nov. 4, 2007, in Providence, R.I.
Burial in the Dominican Cemetery, Providence College, Providence, R.I.
THE SMITH YEARS AT PROVIDENCE
Rev. Philip Alphonsus Smith, O.P. '63, a native of Prince Edward Island, Canada, was elected the College's 11th president on June 7, 1994, and officially assumed office on July 1, 1994. He spent the next 11 years as president and significantly advanced the College's reputation as a premier Roman Catholic liberal arts institution.
Father Smith served the Dominican Order as a priest for nearly 40 years. His path began in 1961 when, as an undergraduate, he entered the novitiate of the Dominican Province of St. Joseph at St. Joseph Priory in Somerset, Ohio. He made his first religious profession there on Aug. 16, 1962. He was ordained a priest on June 13, 1968, by Most Rev. Ernest B. Boland, O.P., D.D. '49, then-bishop of Multan, Pakistan, at St. Dominic Church in Washington, D.C.
Regarded for his deliberative thinking and visionary style, Father Smith made many notable contributions to the College's growth as president. He oversaw the development of PC's first Strategic Plan, enhanced the quality and diversity of the faculty, directed a revision of the Mission Statement to emphasize the Catholic and Dominican traditions of PC, and oversaw $110 million in new construction and infrastructure improvements. The projects included the College's first free-standing chapel, St. Dominic Chapel, built in 2001; the Smith Center for the Arts — named in his honor — and Suites Hall, PC's first suite-style residence hall, both in 2004.
The College's academic profile rose to a record level during Father Smith's years as president. PC was consistently ranked #2 among colleges and universities in the North Region in U.S. News & World Report's annual college guide, America's Best Colleges, and was voted #1 in 1997. In 2004, the College's Board of Trustees voted to establish the Division of Business Administration, an action which led to the formation of the School of Business.
In recognition of his many achievements and commitment to the academic standing and mission of the College, Father Smith was presented the Veritas Medal at the College's Eighty-Seventh Commencement Exercises in 2005. The medal is the highest honor the College can bestow on an individual.
Two other College awards were established in his name: The Reverend Philip A. Smith, O.P. Award and the Reverend Philip A. Smith, O.P. Humanitarian Award. The Father Philip A. Smith, O.P. Student Fellowships for Study and Service Abroad were first bestowed in 2009 and are awarded annually on a competitive basis to rising juniors and seniors. The fellowships enable students to undertake summer study or service at Catholic and Dominican sites outside the continental United States.
After his presidency, Father Smith took a one-year sabbatical and returned to the classroom at PC in 2006.
Father Smith joined the College's faculty in 1981 as professor of philosophy. An author and expert in medical ethics, he served from 1982-1985 as assistant to the president of the College, Very Rev. Thomas R. Peterson, O.P. '51. He was acting assistant dean of the School of Continuing Education in 1990. He was an adviser to Student Congress from 1986-1988 and was moderator of the Class of 1990 from 1986-1987.
EDUCATION
Raised on a 100-acre farm in Fort Augustus, Prince Edward Island, Philip Smith attended the Webster Corner School, a one-room schoolhouse, from grades 1 through 10. He completed his high school education at St. Dunstan's in Charlottetown, a community east of Fort Augustus. He worked on the family farm and held several other jobs before coming to the United States in 1959.
Father Smith majored in philosophy at Providence College, attaining his bachelor of arts degree in 1963. He went on to earn several other degrees, including bachelor's and master's degrees in philosophy from St. Stephen's College in Dover, Mass., in 1964 and 1965. Between 1967 and 1969, he received three other degrees from the College of the Immaculate Conception at the Dominican House of Studies in Washington, D.C.: a bachelor of sacred theology, a licentiate of sacred theology, and a lectorate of sacred theology. Father Smith attended Drew University in Madison, N.J., and was awarded a Ph.D. degree in philosophy and religion in 1981.
In 2005, he received honorary doctoral degrees from Caldwell College in New Jersey and from Brown University in Providence.
OTHER ASSIGNMENTS
Shortly after completing his religious studies in 1969, Father Smith was named assistant pastor at St. Gertrude Priory in Cincinnati, Ohio, and served there for a year. From 1970-1981, he taught in the religious studies/theology department and served as chaplain at Caldwell College, while being assigned to parishes in New Jersey and New York. He also was the secretary of education for the Dominican Province of St. Joseph from 1976-1980.
While serving at PC from 1981 until the time of his death, Father Smith took leaves for two other assignments. He taught theology at the Pontifical University of St. Thomas Aquinas (the Angelicum) in Rome in 1988-1989 and was the president of the Pontifical Faculty of the College of the Immaculate Conception at the Dominican House of Studies from 1990-1994.