Very Rev. Thomas Reginald Peterson, O.P. '51 & '85Hon.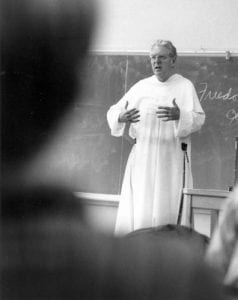 NINTH PRESIDENT, 1971-1985
Birth: June 17, 1929, in Newark, N.J.
Death: Oct. 22, 2000, in North Kingstown, R.I.
Burial in Dominican Cemetery, Providence College, Providence, R.I.
THE PETERSON YEARS AT PROVIDENCE
The first Presidential Search Committee, composed of three Dominicans, a member of the President's Council, and the presidents of the Faculty Senate, Alumni Association, and Student Congress, presented the names of acceptable candidates for the Corporation's elective vote on May 24, 1971. On July 1, 1971, the Corporation's choice, Very Rev. Thomas Reginald Peterson, O.P. '51, officially began his tenure. His 14 years as president, from 1971\ to 1985, represents the longest presidential term to date.
Father Peterson's relationship with Providence College began in September 1947 when he matriculated as a pre-ecclesiastic student with the Class of 1951. He returned in 1957 as a Dominican priest assigned to the Philosophy Department. Throughout his years at the College, he maintained his faculty status, teaching theology and/or philosophy. With experience as assistant dean from 1962 to 1966, as dean from 1968 to 1971, and on numerous related committees, such as studies, curriculum study, student-faculty, academic rank and tenure, administration, and coeducation planning, Father Peterson assumed the presidency with an excellent knowledge of PC administration. He was a member of the Corporation from 1971 to 1985 and 1986 to 2000, on its Executive Committee from 1971 to 1985, and treasurer from 1975 to 1985.
He was also a member of the President's Council for the duration of his term. In January 1984, Father Peterson announced his intention to resign from office effective June 30, 1985. After spending a sabbatical year, 1985-1986, traveling in Japan, India, and China, and teaching at Seton Hall University in South Orange, N.J., and at Wuhan University in China, he joined the full-time Providence College faculty, teaching courses in ethics and Eastern philosophy. The former president served on the PC Board of Trustees from its inception, in 1992, until 2000. In 1990, shortly after being named the first director of the College's Asian Studies Program, he was asked to assume the combined posts of chancellor and president of Seton Hall University. He spent 10 years at Seton Hall and then returned to Rhode Island.
Known as a gifted teacher and orator, Father Peterson was a noted speaker on Eastern philosophy and Catholic higher education. He served on/chaired many professional and learned groups during his term as PC president, including the Special Legislative Commission to Review the Entire Higher Education Scholarship Program in the state, the R.I. Independent Higher Education Association, and the American Council on Education. In 1972, he co-founded the R.I. Committee for the Humanities and was active on the Executive Committee for many years.
His community and civic service was wide-ranging, including membership on the Meeting Street School Board of Directors, the Task Force on Services to the Non-English Speaking Communities of Rhode Island, the R.I. Ethics Commission, the R.I. Public Expenditure Council, and the U.S. First Circuit Judge Nominating Commission. In 1978, the National Conference of Christians and Jews honored him with a Brotherhood Award. Other recognition included the Diocese of Providence Pro Eccelesia et Pontifice Cross, and the John E. Fogarty Foundation for the Mentally Retarded Humanitarian Award. Distinction during his years at Seton Hall included the New Community Corporation of Newark Humanitarian Award and the first Seton Hall University Alumni Association Regents' Medal.
Two U.S. Army Outstanding Civilian Service Awards indicated Father Peterson's support for the Reserve Officers' Training Corps program. In addition to an honorary degree, PC presented him with the following: the Student Congress Person of the Year Award in 1978 and 1985, the Mal Brown Alumni Club's Mal Brown Award (1981), the Alumni Award for Outstanding Faculty Service (1981), dedication of Peterson Recreation Center (1981), the Newport Providence College Club Dr. Louis Burns Award (1984), 1985 Class Honorary Membership, and the Hartford Providence College Club Friars' Award (1985). In 1985, the College awarded him the Veritas Medal, its highest accolade.
The Oct. 17, 1971, inauguration of the ninth president was a daylong schedule of events celebrated by the College community that noted a number of milestones — the beginning of the academic year featuring the debut of the Development of Western Civilization (DWC) Program and the admission of women as undergraduates, the College student union cornerstone laying ceremony, and the first Oktoberfest. These events set the tone for administrative, academic, and social life during the Peterson era. The Administration Committee was made more effective, and students and faculty were given more of a voice in operations. The core DWC Program matured, and academic programs adapted to changing student interests and professional opportunities.
Female undergraduates were successfully integrated into the academic, athletic, and social life of the College; by the fall of 1978 women outnumbered men in the freshman class. The administration developed strategies promoting affirmative action and minority recruitment. The College made major commitments to construction, renovation, and campus beautification. Father Peterson's personal contacts and negotiating skills made possible, finally, the construction of a Dominican faculty residence and community center and the purchase and renovation of the adjacent Chapin Hospital property. The number of varsity and intramural athletic teams and facilities and extracurricular activities grew, enrollment in all schools soared, and upperclassmen increasingly chose to move into off-campus apartments. By the fall of 1979, the majority of freshman were from outside Rhode Island. The Providence Civic Center became the home court for the men's basketball team and the site for commencements.
The defining moment of Father Peterson's presidency was the Dec. 13, 1977, Aquinas Hall fire, which took the lives of 10 female students, injured 12, and devastated the PC community. Father Peterson's leadership and tireless concern for the victims' families, the injured, and the returning students — he lived in Aquinas Hall for three months after the fire — helped the College come closer together. He suffered the second such tragedy and similarly helped another college community heal 23 years later when Seton Hall was traumatized by a January 2000 dormitory fire in which three male students died and 62 were injured.
EDUCATION
Two of the three sons of William J. and Mathilda (Collins) Peterson attended PC and became Dominican Friars. The youngest, John '57, returned as a member of the Religious Studies Department and  held a number of administrative posts through the years beginning in 1964, including financial aid director, College treasurer, and assistant dean of admission. Thomas, the middle son, attended parochial schools in Newark — St. Antoninus Grammar School and St. Benedict's Preparatory School — and was influenced by the Dominicans at St. Antoninus Parish to join the Order of Preachers. In September 1947, he enrolled in the pre-novitiate program with the PC Class of 1951. He started his training for the priesthood at St. Rose Priory in Springfield, Ky., in 1949 and was professed there in 1950. He took course work in philosophy at St. Joseph's Priory in Somerset, Ohio, from 1951 to 1953. In 1953, he completed the program of study for the bachelor of arts ecclesiastical degree from PC.
Father Peterson moved to Washington, D.C., in 1953, and was ordained there on June 8, 1956. He earned three degrees at Immaculate Conception College — a bachelor of sacred theology in 1955 and both a license of sacred theology and a lectorate in sacred theology in 1957. While teaching at PC, he undertook further study at St. Stephen's College in Dover, Mass., where he received his master of arts degree in 1961. In 1966, he began a leave of absence in order to pursue his doctorate. Aquinas Institute of Philosophy in River Forest, Ill., awarded him the doctor of philosophy degree in 1968. He also took post-graduate courses in academic administration at several Chicago-area universities, including the University of Chicago, Northwestern University, Loyola University, and the University of Wisconsin. He received honorary degrees from the following R.I. institutions of higher education: Barrington Bible College, Mt. St. Joseph College, Our Lady of Providence Seminary, Bryant College, Johnson and Wales College, University of Rhode Island, Rhode Island College, Brown University, Providence College (1985), and Roger Williams College.
OTHER ASSIGNMENTS
Father Peterson spent the period between his ordination in 1956 and his teaching assignment to PC in 1957 as a student living in the Dominican House of Studies in Washington, D.C. After completing his presidential term in 1985, he took a sabbatical year to travel and to teach philosophy at Seton Hall University as a scholar-in-residence. In 1990, Seton Hall, the oldest diocesan university in the country, invited him back to become chancellor and president. Father Peterson thus became the first U.S. Dominican to a head a college or university other than Providence College. The university relieved him of the presidential duties of overseeing day-to-day operations in 1995 so that he could concentrate on fund-raising and alumni relations. He planned on retiring from Seton Hall early in 2000 but, after the January fire, he stayed on until June. He was assigned to PC but lived in Hopkins Manor Nursing Home in North Providence and then in Scalabrini Villa Health Care Center in North Kingstown.
— Jane M. Jackson, 2003