William Paul Haas, Ph.D. '48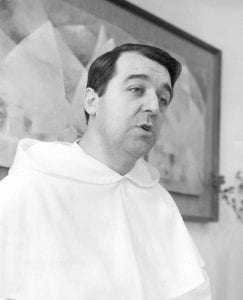 EIGHTH PRESIDENT, 1965-1971
Birth: May 31, 1927, in Newark, N.J.
Death: May 9, 2023 in Hartford, Conn.
THE HAAS YEARS AT PROVIDENCE
At a faculty meeting held on March 15, 1965, the provincial announced the name of the eighth president of Providence College — Rev. William Paul Haas, O.P. '48. The youngest ever appointed to the post, Father Haas officially took office on July 1, 1965. On Dec. 13, 1970, Father Haas notified the corporation that on July 1, 1971, he would be resigning as president. The six-year Haas era was probably the most turbulent and controversial period in the history of the College and the nation.
Father Haas was acquainted with the College from his days as a Dominican pre-ecclesiastic student (1945 to 1946) and as a member of the Department of Philosophy (1962 to 1963). In addition, from 1956 to 1959 he had lectured at the Cardinal Cushing School of Theology for the Laity, the Boston-area affiliated institution conducted by the College's Dominican Fathers.
Shortly after his appointment to the presidency, Father Haas was elected both a Corporation vice president and a member of the Executive Committee. He served as an officer until 1970, when a restructure eliminated that position, and on the Executive Committee until his resignation in 1971.
From 1965 to 1971, he was a member of the President's Council, an advisory group of professional and business leaders. In May of 1971, he received the Outstanding Faculty Service Award from the PC Alumni Association. He taught philosophy at PC and at the University of Rhode Island in the year following his resignation as president. In the fall of 1972, he began a leave of absence and became a post-doctoral research associate in the Boston University Department of Philosophy, and in April 1973, he resigned from the PC faculty. On Aug. 10, 1973, he received notification that he had been granted a dispensation. He was laicized and married shortly afterwards. In July 1973, he was appointed associate director for academic affairs of the Massachusetts State College System.
An accomplished artist and Dominican scholar in philosophy and theology, Father Haas was a well-known author on the subjects of philosophy and art and a painter and sculptor who had exhibited his works throughout New England. His inauguration on Oct. 9, 1965, the first official installation of a PC president, included features reflecting his promotion of the arts, for example, a Rhode Island Philharmonic Orchestra concert and the unveiling of a unique silver ceremonial mace as one of the symbols of the Office of the President. Father Haas served on several professional, learned, and civic groups during his presidential term, including the Rhode Island Higher Education Council, the American Society for Aesthetics, the Urban Coalition of Rhode Island, and the National Conference of Christians and Jews, which awarded him a Brotherhood Award in 1970. He was particularly active in cultural organizations, including the Trinity Square Repertory Theater Company Board of Directors and the National Foundation on the Arts and Humanities.
In Providence College: From the Beginning, PC historian Dr. Donna T. McCaffrey '73G, '83Ph.D., & '87G summarized the challenges faced by the Haas administration. Volatile national issues like civil rights, student rights, and U.S. involvement in Vietnam loomed — and intensified — while Providence College faced national educational trends of decreasing enrollment in all-male colleges, diminishing clerical teaching faculty, and professionalizing of collegiate institutions. Some of the events during the 50th anniversary year, 1969-1970, illustrate the spirit of activism and the changes during the Haas era.
The Fall 1969 semester opened with the groundbreaking for a College student union and an anniversary convocation that included an academic procession, the awarding of 10 honorary degrees, and a walkout by approximately 75 students protesting the structure of the corporation. The spring of 1970 brought the Vietnam Student Strike (during which the College remained open with attendance being a matter of conscience), Faculty Senate approval of a revised curriculum, off-campus military commissioning ceremony, and Corporation votes for co-education beginning in the fall of 1971 and for restructure of the corporation itself. A Master Plan Committee succeeded the Academic Planning Committee formed in November 1964 during the presidency of Rev. Vincent C. Dore, O.P. '23.
The 10-year Development Plan announced in November 1967 reaffirmed the mission of the College, set goals to construct and improve buildings, outlined long-range financing strategies, and supported curriculum changes. The administrative structure continued to evolve, with the number of vice presidents growing from two to four. There were constants, however — the chief financial advisor, Rev. Charles V.F. Fennell, O.P., executive vice president and bursar/treasurer, and Dr. Paul van K. Thomson, vice president for academic affairs, who assumed his post as the College's principal academic officer on the same day as did Father Haas.
The first lay vice president and an outstanding teacher and administrator, Dr. Thomson participated in a number of developments in the College's academic life, including formalizing rank and tenure procedures, interacting with the new Faculty Senate, shaping the signature feature of the PC curriculum — the four-semester, team-taught Development of Western Civilization Program, and chairing the committee that recommended Corporation approval of co-education, with the last two transformations going into effect in the fall of 1971.
Reaction by the Dominican Community, faculty, alumni, and students to the innovations in the Haas years was mixed. Yet, Father Haas' commitment to increasing a spirit of ecumenism and to sharing responsibility for College governance with students, faculty, alumni, and members of the greater community invigorated and modernized decision-making and maintained a focus on mission during a time when many colleges were facing extreme reactions.
EDUCATION
William Lawrence Haas, the third of five children of Joseph J. and Elizabeth (Ryan) Haas, was educated primarily in the Newark, N.J., public schools. He also took painting classes with Richard Boyce at the Newark Museum School. He spent his last year of secondary education, 1944-1945, at Seton Hall Preparatory School in South Orange, N.J.. In 1945, he entered Providence College with the Class of 1948 and joined the Philomusian Society, the organization preparing pre-ecclesiastics for Dominican Community life, and the Glee Club. In 1946, he was accepted into the novitiate and, in 1947, he professed at St. Rose Priory in Springfield, Ky. His philosophy and theology studies proceeded at St. Joseph's Priory in Somerset, Ohio, from 1947 to 1949 and in Washington, D.C., from 1949 to 1954. He was ordained in Washington on June 4, 1953.
He received a bachelor of arts degree from Providence College in 1950 and several degrees from the Dominican House of Studies — the bachelor of sacred theology in 1952, and both the license of sacred theology and the lectorate in sacred theology in 1954. Father Haas resumed his degree work in 1960 at the University of Fribourg in Switzerland and was awarded a Ph.D. degree in 1962. While serving as PC president, he received honorary degrees from the following institutions: Bryant College in Providence, University of Rhode Island in Kingston, Brown University in Providence, Wesleyan University in Middletown, Conn., Rhode Island College in Providence, and Salve Regina College in Newport, R.I.
OTHER ASSIGNMENTS
From 1954 to 1960, Father Haas was assigned to St. Stephen's Priory in Dover, Mass., and taught philosophy and theology at Emmanuel College in Boston. During this period, he also taught at the Cardinal Cushing School of Theology in Boston and at the Oblate Seminary in Natick, Mass., conducted a three-semester course on problems of contemporary Thomism for the Harvard Catholic Club, and participated in conferences at Packard Manse, a Boston center for ecumenical studies. In 1963, after completing his doctoral studies in Fribourg and then teaching for a year at PC, he inaugurated an innovative University of Notre Dame cooperative program offering students at Purdue University, a state institution, courses in contemporary Christian thought. He was an associate professor at Notre Dame from 1963 to 1965 and a professor of contemporary theology at Wabash College in Crawfordsville, Ind., from 1964 to 1965.
Dr. Haas continued his career in higher education for more than 20 years after leaving Providence College. He held a number of administrative and teaching posts in Massachusetts and Rhode Island, including four years as president of North Adams State College, until 1996. He also retired as professor of humanities from Bryant College in Smithfield, R.I., in 1996.
— Jane M. Jackson, 2003